We had a  happy Saturday on 5th June when Netsai and Nyeketai were baptized. The baptism ceremony was celebrated by our father Reverend Canon  Mutasa with the assistance  of  Reverend Fr Motsi and  Reverend Fr Mutenga. Netsai and Nyeketai were given new baptism names, Anotidaishe (God loves us) and Ruvarashe (God's flower), respectively. Mrs. Matsika and Tafadzwa Mandikate were godparents for Anotidaishe, and Mary Tumushime and Tinashe Mkwande were godparents for Ruvarashe.
Please help us congratulate  Anotidaishe and Ruvarashe on being born again and  wish them all the best in their Christian journey.
Have a look at the photos below.
           Anotidaishe being baptized by Fr Motsi.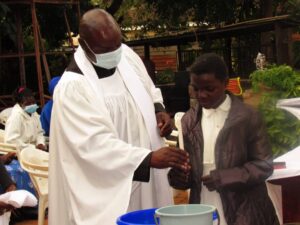 Ruvarashe being baptized by Fr Mutenga.
We would also like to congratulate Jawet Mukoromeko who graduated on  15th of May with a Diploma in Sport Management and Coaching. Below  is Jawet's photo on his graduation day.
Jawet on his graduation day.
Kudakwashe Clergy also passed his end of term exams  with stunning results, he had grade B's in  most of his subjects and a few Cs.
Well done Kuda!
Below is Kudakwashe's photo.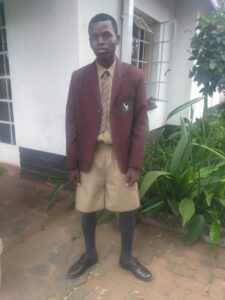 kudakwashe
Your prayers , kindness , continued generosity and support enable us to achieve all this .
May the Lord continue to bless you.
THANK YOU.