Tariro Youth Project is a loving and beautiful home filled with amazing people as we continuously learn new skills each day. One of the greatest lessons we are taught is to take responsibility for our own lives and obviously to pray. And one of our main routines is that, when we wake up in the morning we do our prayers as a family and soon after that we then proceed with our chores.
We have set many activities that we must accomplish by the end of each day and below are some of the things we do.
One of our brothers Dumisani, he's very good and loves gardening hence he teaches us all on how to grow certain vegetables like tomatoes, garlic  and onions.
Some parts of our garden
Jawet as sportsman is responsible for conditioning us all to stay fit so as to improve our health and our physical well being .We also have our sister Carlotta and she loves cooking delicious food all the time however its quite interesting to share with you that even some of our brothers now can cook a meal for the whole family as they have learnt these skills from our beautiful sister Carlotta and we usually set the table for our dinner with the help of Nyasha please take a look at the pictures below.
Doing some exercises led by Jawet
However still on cooking we have another sister Thandeka and she loves baking and l'm glad to say that most of us in the house  have gained a  new skill some of the  things that we bake include cupcakes ,muffins ,soft buns to mention only a few.
Eunice is one of our sisters as well and she really loves her work in making jewellery and we are also privileged because we do take some time to learn these beautiful skills and lessons.
I will not conclude this article without mentioning our beautiful dancers Tinashe, Tatenda and Fidelis and we enjoy every moment because we have created time for ourselves to learn their dancing skills. Above all we have a study period whereby we all devote to our books so as to achieve our goals and excel in everything we do.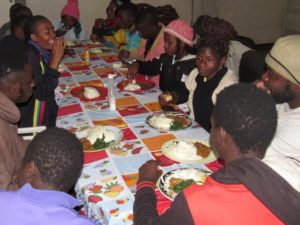 Having our dinner
Therefore on behalf of my brothers and sisters l would like  to thank you for supporting us in everything and in different ways and there are no sufficient words to describe how thankful we are for what you have done and still doing for us.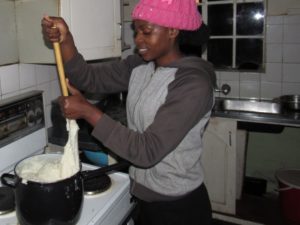 Carlotta cooking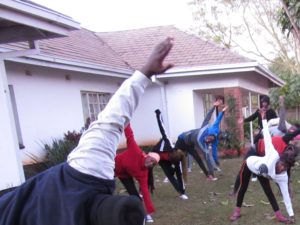 Fitness training.
Thank you
Suzzana…