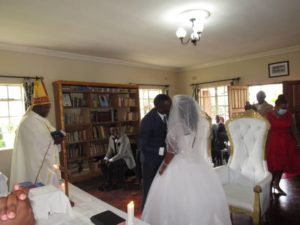 John and Linnet tied the knot
It was a wonderful day on the 13th of June when John and Linnet tied the knot. Due to the lockdown restrictions the wedding took place at our homeplace.The Bishop Farai Mutamiri administered the sacrament of marriage to the two. Bishop started off by welcoming and thanking families and guests who had come to celebrate this day with the couple.
The couple during the sermon
After a warm welcome Bishop proceeded with an opening prayer and then led the two through their vows. Bishop Mutamiri gave a wonderful sermon which left the audience speechless.TYP choir led the mass service which turned out to be awesome. After the wedding the couple went for photos around home which is filled with a garden of flowers.
Showing off with their identical smiles
John and Linnet then came to join everyone for lunch in the gazebo arms linked, with identical smiles on their faces. The best man and the maid of honour followed suit, falling in behind them. Family and friends came in to congratulate the young couple. As the in-laws were present they gave marvellous speeches and words of encouragement as well as the TYP family, and the couple received numerous gifts from both the in-laws and TYP family. It was a beautiful day indeed the wedding turned out delightful.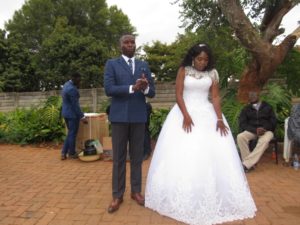 John and Linnet giving a vote of Thanks
We express our gratitude to our donors, supporters and trustees out there who are always fighting for us during these hard times. We also extend our gratitude to Bishop Mutamiri for celebrating this special day with us.
Thank you…