It is of great importance to inform our donors, sponsors as well as our trustees from all over the world of our day to day activities since the beginning of the lock-down. We start our day with devotions in the morning as a family, we do some regular exercises after this we then have our breakfast however we usually spend most of our time studying and we then meet for lunch.
We often remind each other about the importance  of social distancing ,sanitising our hands , wearing masks as well as washing our hands regularly to help fight and reduce this pandemic above all that we have all devoted ourselves in making and keeping our beautiful home clean and neat which is something appealing to us this includes our garden as well.
As we all know that we are a family full of melodious voices l can't express it enough here how we are excited when this time of singing comes alongside our drummers (Fidelis and Takudzwa). It is indeed an interesting and amazing moment and we enjoy it. In addition we enjoy playing games such as solitaire, Fifa and soccer. Below are some photos of our activities.
Our greatest lesson that we have learnt during the Lock-down is being synergistic that when we work as a team we accomplish more than we could achieve alone, we've also learned to be considerate of others by being kind and loving to each other unconditionally. However we're forever grateful for your continued and generous support especially during this difficult time. Thank you for being there and for fighting for us. We also want to thank baba (father) for strengthening our faith through mass services we share every Sunday.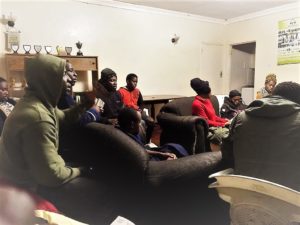 Choir practice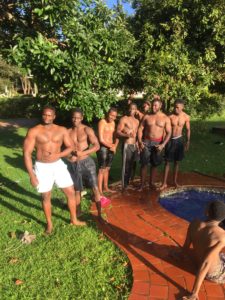 Boys at the swimming pool.
THANK YOU.